Cylindrical
Wedge Wire Screens
CWS offers a range of cylindrical wedge wire screens including water well (bore) screens, open water intake screens, suction strainers, sand spears, trommel screens and media retention screens. 
All CWS screens are manufactured from stainless steel wedge wire which minimises clogging and provides a greater effective open area. This provides for enhanced transmisson capacity and more efficient flow. In the context of bore screens, this translates to more efficient pumping and lower operating costs.  
We offer a wide range of screen diameters from 52.4mm ID to 1324mm ID and can accommodate a range of apertures from as low as 0.25mm (10 thou) within a tolerance of +/- 0.05mm (2 thou). 
Our cylindrical screens may be configured to enable outside-to-inside flow (standard configuration), where the wedge wire head faces the outside of the screen, or, for screens with a minimum ID of 250mm, inside-to-outside flow (reverse-wrap configuration), where the wedge wire head faces the inside of the screen.  
We work closely with our customers to ensure that screens are designed specifically to suit the application, taking into consideration the required flow rate, collapse pressure, tensile strength and column strength.
Water Well (Bore) Screens
At CWS, we specialise in the design and manufacture wedge wire screens for water well drilling applications. Our founders have first-hand experience in water well drilling and have a deep understanding of the unique characteristics that make a quality bore screen. We are members of the Australian Drilling Industry Association and are proud to support water well drillers with quality products across Australia and New Zealand. 
Bore Screen Characteristics
When you request a quote for a CWS bore screen, it's important to have the following information on hand so we can effectively match the design to your unique application:
Depth setting
This, in combination with aperture selection helps us to determine the appropriate screen design to handle the potential collapse pressure that may exist within the bore.
Effective screen length
CWS can offer effective single screen lengths from 500mm up to 6000mm.
Aperture (slot)
CWS can offer aperture settings from 0.25mm (10 thou) and can achieve slot accuracy within a tolerance of +/-0.05mm (2 thou). We can also offer variable aperture settings on a single screen to match the unique conditions within the aquifer. To assist with aperture selection, CWS can offer a sieve analysis service that is performed to the standards recognised by the Australian Drilling Industry Association.
Material
CWS offer screens in 304 and 316 stainless steel. In particularly abrasive or hard water applications, 316 material may provide better wear characteristics and increase the effective life of the screen.
Diameter (ID or OD)
CWS can produce screens in a wide range of diameters from 52.4mm ID up to 1400mm OD. We also offer screen attachments that match most API stainless casing and PVC casing sizes. 

Screen fittings and attachments
CWS offers a wide range of screen fittings including standard gauge and over-sized beveled weld rings, female PVC adaptors, threaded couplings, sealing packers and base plates.
With this information, CWS configures the screen to suit the application, selecting the appropriate wedge wire and support rod structure to maximise collapse pressure, transmission capacity and tensile strength before commencing the manufacture process.
For more information on CWS water well screens, submit an enquiry via the button below or give us a call.
Suction Strainers
CWS offers suction strainers to suit a range of pumping applications. These screens are typically utilised in open water, mining or other dewatering applications where media retention is required to protect pumping equipment. Each strainer is manufactured from quality 304 or 316 grade stainless steel, ensuring a long life of efficient screening performance.
Each strainer is custom designed to suit the application. Configured to maximise flow rates, our strainers are available in a wide range of diameters and can be configured with a range of adaptors and coupling attachments including threaded BSP joiners, custom flange plates and beveled weld rings.

For more information on CWS suction strainers, submit an enquiry via the button below or give us a call.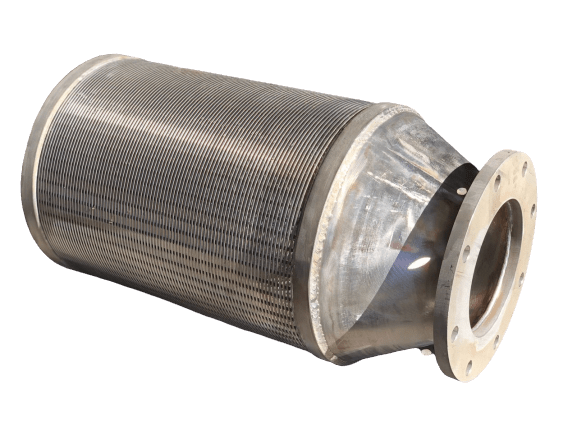 Surface Water Intake Screens
CWS are equipped to design and manufacture intake screen solutions for municipal, industrial, urban utility and other surface water extraction applications. We provide low maintenance wedge wire intake screens that are designed to optimise transmission capacity and improve pumping efficiency. 
Wedge wire is ideal for surface water intake applications as its wedge-shaped design allows smaller particles to pass through the screen while minimising the risk of clogging with larger particles. Surface water intake screens are also ideal for separating marine life from interaction with water extraction hardware, preserving both aquatic life and valuable pumping equipment. 
CWS intake screens are available in individual screen lengths of up to 6000mm and may be supplied with weld-rings to enable joining where the application requires longer screen columns. Screen diameters are available in up to 1400mm OD and can be designed to suit transmission capacity and collapse pressure requirements.
We offer mounting hardware to suit customer requirements and can provide plain stainless or flat wedge wire panels to suit the ends of the intake screen. We offer 304 and 316 grade stainless to ensure long-term performance in most environments including in brackish or salt water applications.
For more information on CWS intake screens, submit an enquiry via the button below or give us a call.
Sand Spears
CWS also manufacture 'sand spear' wedge wire screens for applications where water is to be extracted from shallow sand or gravel aquifers.
Our standard sand spear features a heavy duty 52.4mm ID construction with a 0.25mm aperture, 2" BSP threaded female coupling for direct connection to pumping equipment and conical resin tip for ease of installation.
Standard spears are available in 304 grade stainless and feature a 600mm effective screen length. Custom lengths and diameters are available on request.

For more information on CWS sand spears, submit an enquiry via the button below or give us a call.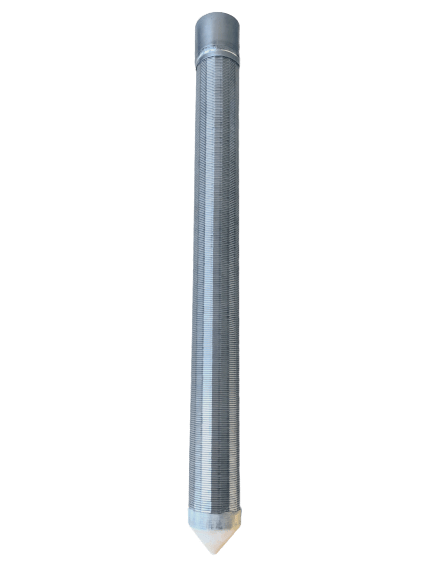 From our highly valued customers:
"Their product quality is always good, I have never had any problems with them. A colleague from another company ordered products from an overseas supplier and the product was falling apart! This never happens with Condamine"
– Ashley Crank, AB & TA Crank Drilling
"Good service and a quality product"
– Greg Brereton, Water Resources Drilling
"I continue to use Condamine Wellscreens because they offer a good price and service and are easy to deal with"
– Jordan Begg, Queensland Operations Manager, J & S Drilling
"Condamine Wellscreens' lead-time is very good; they are fast to respond to quote requests and easy to deal with. The quality and consistency of their work is very good as is the technical support behind it. With Condamine Wellscreens, we are able to go straight to one person and place an order quickly
– Luke Woods, ACSEQUIP
.